Alternative fuels powered 10.5% of all new buses sold, while hybrid electric vehicles accounted for 10.1% of the market. Together, all alternatively-powered vehicles made up 31.2% of the EU bus market in 2021 – ACEA
According to ACEA, alternatively-powered buses make up almost a third of the market (refer to the diagram below)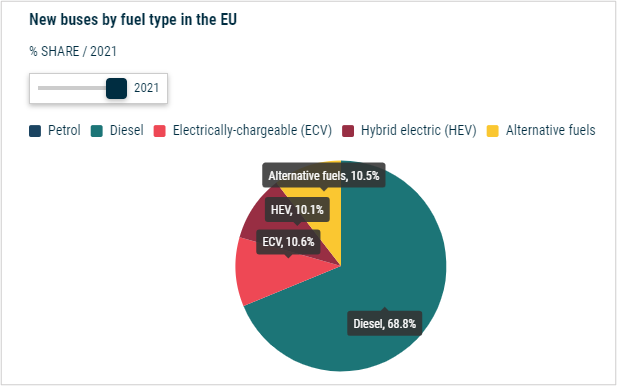 Source: ACEA
With the boom in heavier vehicles utilizing alternative fuels, especially in countries where public transport systems are matured, it's come to light that Bus and Coach operators are leading the field in alternative fuels. In the EU Bus and Coach market, 31% is comprised of alternative buses with e-buses reaching 10% (sustainable-bus.com).
"Various MiX Telematics' customers in the Bus and Coach market are surpassing EV miles driven over ICE miles and at a lower cost."
This is a significant driver towards solidifying fleet sustainability as a key proponent of fossil fuel reductions, now in in the future.
Similarly, in 2021 the EU demand for diesel buses fell by 2.9% with its market share shrinking from 73.2% in 2020 to 68,8% in 2021 (sustainable-bus.com)
Unique Challenges
It does however present unique challenges that MiX Telematics can report on and deliver data for.
These insights go a long way in helping fleet operators determine how to plan for a sustainable future. Our Bus and Coach customers get actionable data that are specific to their KPIs and include vehicle, fuel, and driver performance monitoring.
Whether the vehicle is diesel, electric, hydrogen, CNG, or other future fuels, MiX can benchmark, existing historic data, against the new fuels to show the tangible benefits and the areas where training or vehicle replacements are required or would be beneficial.
Answering pressing questions like:
What is the fuel cost comparison?
Is driver behavior influencing fuel spending?
Does a particular make and/or model, or fuel cost more than another?
Is driver training on new fuel vehicles sufficient?
Does mixing driving of different fuel types cause issues in driving style?
Is there a noticeable ROI when changing fuel types?
These are just some of the factors that have been identified by MiX in building the reports and tools currently available to our Bus and Coach customers. But again, it's the contribution of Bus and Coach operators in reducing emissions that's significant. The trend is tangible in the number of alternate fuel miles driven against the fewer diesel miles which demonstrates the industry is doing its part in combating climate change.
Below are a couple of example graphics as an idea of where we are going with this:
For more information on the importance of fleet sustainability and the role that MiX Telematics is playing to help customers combat the CO2 scourge, please click here.
Additionally, our eBook on how fleet management can support EV fleets is read here.